People travel and take their laptops, phones, and other electronics. There are situations when the trip is a forced – business trip or move to another country. And here, it is necessary to carry all your valuables, which for gamers, of course, include and PlayStation 5. Flights are always associated with many issues because different countries have different laws and, at the borders, things will be closely inspected. Today we'll tell can you bring a PS5 on a plane in your hand luggage and checked luggage, what you need to know, and how to pass all the checks by the airport control.
Standards of Carriage on Airplane
If a one-way flight is planned, think about how to prepare your PS5. Visit the airline's website and read about carry-on baggage and luggage dimensions. Be sure to contact customer service or ask airport employees if you plan to buy tickets in person about the details of interest.
In America and European countries, you can use sites to buy PS5 – we made a selection of proven and popular online stores. And how to buy a console by hand. It is important, in addition to external signs, to check the serial number of the device and the DualSense controller.
It is not allowed to carry hazardous items on planes. There is no clear list unified for all airlines. Some categorize as potentially dangerous nail files and thoroughly check laptops. Others – look through things, and not finding harnesses, let them through.
Prohibited include:
Poisons and acids;
Explosive and flammable substances and components;
Compressed gases in various forms and aerosols (sprays);
Lithium batteries (rechargeable batteries);
Weapons without permits;
Things that emit radiation.
As you can see, the consoles are not on the list – the PS5 doesn't even have a built-in battery to arouse the slightest suspicion of its danger to passengers.
Can You Travel With Your PlayStation 5 by Plane?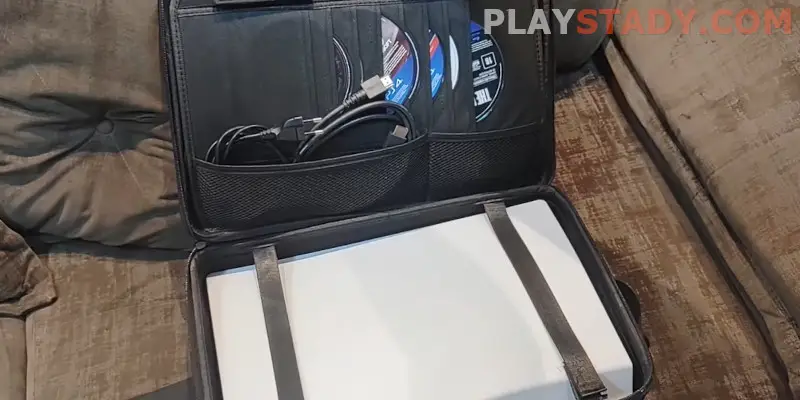 It's hard to say for sure since regulations can vary. Both airlines and countries even depend on the mood of the inspectors. But if you take the usual situation, you can carry a Sony PlayStation 5 on a plane. So it's not some dangerous gadget. Besides, it's not included. But that's a tentative answer. For accuracy, let's look closely at some questionable items below. But the most reliable option is to check with airline employees.
Securely Pack Your Console
Transporting PS5 on the plane is allowed, but you must decide where to send the console – in checked luggage or on the hand luggage shelf. The advice here is something difficult, but here is useful information. Employees engaged in packing and packing luggage are not always neat. We will not consider the cases when things are thrown (although also considered), but of the accidents, no one is immune.
If you decide to put the console in the luggage, pack it in a box with foam if there is no native. It is advisable to place the container in a bag with soft things, paying attention to the corners. You can ask the airport staff to put a "fragile items" sticker on your bag/suitcase. It will not save you from damage, but it will be noticeable visually, and at least some chance of careful handling increases.
The ideal solution would be to buy a special case designed for PS5. Then, you can easily transport the console in all situations and use it like a backpack. Usually, such models are universal and fit both disk and digital versions.
PS5 in Carry-on Baggage
PlayStation 5 as hand luggage is a more reliable option, and here are the main reasons:
Game console with you on a plane. You see what happens to it, you can place it carefully, and you can rest assured that no one else but you will drop it;
If the control service has questions about the luggage, which can be without your presence, there is a risk that things will be looked at. At a minimum, workers may also not pack the console, leaving vulnerable areas uncovered. At most, they might lose something or take the console away altogether. Probably nothing will happen to it, but you will have to contact the company's representative or worse – to leave a request and wait for an official response.
PS5 in Checked Luggage
We decided to dedicate a separate item to the PS5 console in checked luggage. Of course, you can carry the console in your checked baggage, but we strongly recommend that you think about it: workers commit the most expensive thefts because they know about the composition of your luggage. Therefore, all electronics and valuable items are recommended to take with you, having scanned separately at the inspection.
A Few Tips…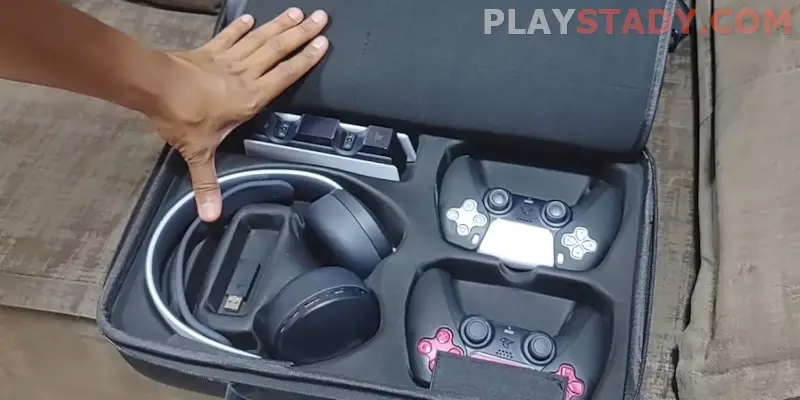 As for convenience, everything is individual. But gamers who often use airlines, when asked how to travel with PS5, give trite advice:
It's best to transport it in its native box. Put the box in a bag or package – just for easy transportation (you still have to look for a cab on arrival or public transit);
Take everything you need to start the console. Particularly correct and serious about the instructions may require employees to start the console. The same applies to any other electronics. If asked, you can remove the side panels of the PS5 to check – it is done in a couple of movements. At the same time, you'll know if it's time to clean the console from dust;
If you're worried that you have a backpack and even a console with you, it's okay – in the backpack things you need for the flight at hand – documents, medicine, phone, and a bag with a PlayStation 5 – hand luggage;
Pay attention to the airline requirements for hand luggage. Standard parameters in cm: 55×40×20 (in total, in all three dimensions, length + width + height must be less than 115 cm). The weight limit is between 5-10 kg.
Requirements for carry-on luggage are based on two indicators. The first is passenger safety and the ability to arrange the cargo compactly. For example, the baggage with the parameters of 55×40×20 cm easily fits both under the seat and on the top shelf. The second point is company policy. For example, some airlines have significantly different luggage dimensions depending on the flight class. So, for a low-cost airline, it may be up to 5 kg, and for business class, it is 15 kg.
About the TSA Regulations
The TSA is a service in the U.S. that is responsible for passenger safety. Based on this, they have the right to check luggage and belongings, so we recommend familiarizing yourself with the requirements. In addition, in 2022, the agency tightened its measures for preventing personal electronic devices at checkpoints using x-ray examinations. Not raytracing on PS5, of course, but impressive technology, too.
First, all electronic devices whose size exceeds the dimensions of a cell phone must be placed in separate containers before the inspection. Previously, portable PCs were subjected to this kind of control. This is done to obtain accurate data from X-rays and is aimed at a more thorough inspection of smartphones, PCs, e-books, and quadcopters, including portable models (PSP, Switch).
These requirements may not apply yet – don't be surprised if you are checked "the old way". Initially, the method will be tested in test mode at the following USA airports:
Boise Airport;
Colorado Springs Airport;
Luis Muñoz Marin International Airport;
Logan International Airport;
Los Angeles International Airport;
McCarran International Airport;
Lubbock Preston Smith International Airport
Phoenix Sky Harbor Airport;
Fort Lauderdale-Hollywood International Airport;
Detroit Metropolitan Airport.
Important: The list may be expanded, but the new rules definitely apply to those listed, both on arrival and in the country.
For owners of hand, luggage inspection is mandatory – place items for easy access in advance. We won't list all the Transportation Security Administration's rules – they don't apply to the PS5 console. Visit the official TSA website if you still have questions.
To summarize, can you carry the PlayStation 5 on the plane: TSA rules, game consoles Sony, Xbox, Wii-U, and Nintendo Switch are not prohibited, which means you have the right to carry them, but must provide for the X-ray scan.
How to Connect PS5 to Hotel WiFi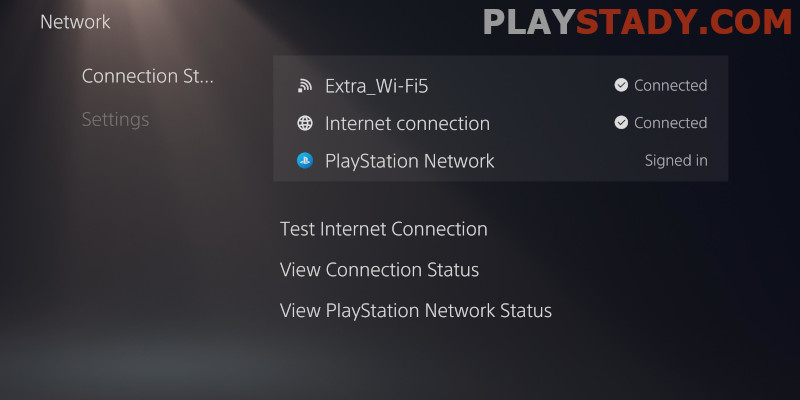 Arriving at a hotel or other place with a public Wi-Fi network, you may have trouble connecting. Here's how to connect properly.
The PS5 can be connected to the hotel network. But be sure to use an original stand – this prevents problems with the drive and other noise. If you can't connect, the reason may be user authentication, which usually happens through a browser. But there is no browser on the Sony set-top box. So there are two ways to fix the problem on your own, as well as the situation when the PS5 is working slowly with a fast Internet connection.
Method 1
The first way how to connect the PS5 to Wi-Fi in the hotel involves using the authenticator built into the PlayStation 5:
Go to the settings menu ( gear icon) and find in the network settings;
In the menu "Networks" select the available Wi-Fi network and enter the data;
It will not connect. Go to "User manual, health, and safety information and other information";
Item "User Guide", click on the appropriate setting (it is one);
A window pops up and asks you to confirm the action – click "Yes";
The access page should open, again enter the data for authentication;
If it were successful, you would see a tick in the green background;
Go back to the "Network" section, and at the bottom, look for "Test Internet connection";
The test takes some time, do not turn off the console and do not interrupt it;
In the end, you should see the message – connection test completed, and PS5 should connect to the Internet.
Method 2
The second option for solving this problem is as follows:
Get your smartphone ready and connect to the hotel network;
Connect to the web with your PlayStation 5;
Select the "How to Authenticate" option;
Check the list of connected devices – the phone should show up under "PS5-XXX" and ask for login information;
Transfer the data from the PS5 monitor to your phone and connect;
In the notification that appears, there should be the hotel data;
When the data is entered, the device "PS5-XXX" should appear in the list of active devices, and an internet connection should occur.
If the device does not connect, try again, but be sure to delete the old connection.
You can also configure which network band to use for data transmission: 2.4 GHz or 5 GHz. If lags occur, check the connection speed – if it's high, the problem is probably in the console. Please read the article about why PS5 lags when it has a high-speed Internet connection.
Useful Video
In this article, we found out if gaming consoles are allowed on planes and how to connect to the local Wi-Fi network upon arrival at the hotel. It is perfectly legal and allowed to transport consoles – problems arise only if the console is new and there are many of them – there is a suspicion of an attempt to smuggle for sale without paying taxes. If the console is yours and one, there will be no trouble with it. Prepare a bag for transportation in advance, read the airline's rules, prepare for the inspection, and put all the cables in the box, if the inspectors are asked to turn on the PS5. If you are checking in your luggage, pack securely and check the boxes to prevent theft.
It is safest to carry the console in your hand luggage – it is in plain sight, but be guided by your own needs and experience. With Wi-Fi, everything is simple – the problem is caused by the absence of a browser for authentication on the console, and therefore we offer two options for fixing the problem and a result – a quiet game online with friends in the library title after the flight.