In addition to powerful hardware, PlayStation 5 has received several important technologies and support for 4K, HDR, and 120 Hz refresh rates. These features offer a new perspective on gameplay and reveal the true potential of the new generation of consoles. Here's how to turn on ray tracing on PS5 and whether it matters.
What is RTX for?
Ray tracing is a technology developed by NVIDIA. To put it simply, this feature in PS5 games allows you to recreate a realistic reflection of rays of light from physical surfaces by examining optical systems and tracking how rays are reflected from the surface. As a result, special RT cores are activated, allowing hardware tracing to be accelerated. As a result, system performance drops, but users get much more realistic graphics. This is the whole point of RTX technology and the answer to why we need a ray tracing on PlayStation 5.
Ray Tracing or Performance
As mentioned above – the performance with ray tracing inevitably drops even on powerful systems like PlayStation 5. So why do we need this technology? Now there is a logical question – does it make sense to enable raytracing, or is it better to stop at the increased performance mode?
It is worth saying – that not all PS5 games have ray tracing support. But among the supported projects, where RTX provides not in full or to the detriment of performance. It is worth noting – that this is not a flaw of Sony – even on the most powerful PCs, there are problems with power when using this technology.
The choice between RTX and performance often comes down to:
Maximum realistic picture, beautiful light reflections, shadows, rips, and other effects;
Maximum FPS. In raytracing mode, the system frame rate is artificially limited to 60 or 30 fps. It's critical for dynamic games like online shooters.
Of course, the employees of Sony are trying to solve this problem c RTX PS 5 and make a compromise between quality and powerless noticeable. However, the user should still make the final decision, guided by personal preferences. It is worth noting that Devil May Cry 5 Special Edition, which you can play with a friend, is one of the first projects where the developers managed to achieve a good balance and add RTX support even in a high-performance mode without the need to lower fps at ray tracing on PS 5 in the range of 30-60 fps.
How to Turn Ray Tracing on and off on PlayStation 5
As we have already found out, users may not only want to enable it but also wonder if it is possible to disable ray tracing on the PS5? The answer is yes. You usually don't need to enable the technology, but if it's already running, go into system performance mode, and it will automatically turn off.
Main settings (in the right top corner).
Saved Data and Game Settings.
Choose item Game Presets and then Performance Mode.
Click on Performance – more FPS.
Click on Resolution – best graphics and Ray Tracing.
Or leave it on system preference.
To enable ray tracing, you need to make sure that the game supports this mode and activate it in the settings.
Popular Questions
Some information about how RTX technology works in games.
RTX in Minecraft
Fans online often wonder how to enable ray tracing on the PS 5 in Minecraft and the answer, unfortunately, is no way. Although the feature is available on PC, the popular game has no support for raytracing on PlayStation 5. Rumors of an RTX version being developed on the PS 5 have been around for a while, but it also mentions that retracing the entire scene is planned, which may be what's causing the implementation issues.
RTX in Fortnite
Like Minecraft, ray tracing in Fortnite on the PS 5 console is unavailable. Previously there were rumors that RTX would be added. Still, in practice, the technological solution only visited the PC after the release of the Fortnite v11.20 update, in which they added support for DirectX 12.
What Kind of TV Do I Need for RTX
Often users wonder if their TV has ray tracing or if it depends on the PS5? In practice, it does not matter what kind of TV or monitor you have. Retracing technology is fully served by the "iron" of the console, and the screen only displays the result. But for a high-quality picture, it is recommended to use a display device with HDR support.
Why Doesn't RTX Work on PS5?
If raytracing does not work on PS 5, the first thing to check is whether the game supports raytracing. Often there is no problem with enabling RTX, and the only thing you can advise is to run PS5 in safe mode and reset it to factory settings. However, it is unlikely that this will help, as this error is almost uncommon and is a serious reason to contact the service center.
Games With Ray Tracing Support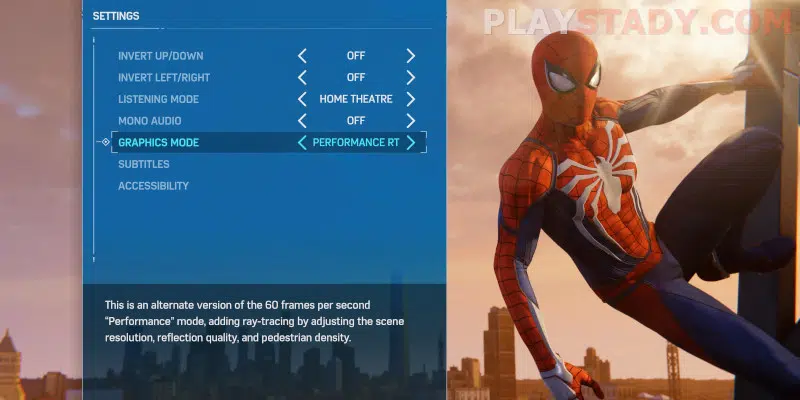 Ray Traced Games for PS5 promises to show the long-awaited NextGen in the gaming industry, for which most people bought the console. Of course, you need a good TV with 4K, HDR, and 120-hertz support for maximum quality. But before you buy an expensive TV, we recommend you get acquainted with the list of released titles that support ray tracing and at what values of frame rate and screen resolution it is implemented.
Among the bestsellers, we can highlight popular projects of famous studios:
Call of Duty: Black Ops Cold War;
Horizon Forbidden West;
Marvel's Spider-Man Remastered.
Resident Evil Village;
DOOM Eternal;
Marvel's Spider-Man: Miles Morales;
Metro Exodus;
Grand Theft Auto V: Enhanced Edition;
Dying Light 2.
Useful Video
The Sony PlayStation 5 has powerful hardware and support for modern technologies such as HDR, RTX, and the ability to deliver frame rates around 120 fps. Well, it's amazing, but the list of games that support all these features with good performance is quite scarce. So it is not unreasonable to know how to turn ray tracing on and off. Get maximum comfort from gameplay, and decide on the advisability of buying a TV for your needs.