Gamers today are guided by several things when choosing a platform for gaming. Among the items: are the availability of exclusives, cost, system performance, constantly updated drivers, and adequate support service. But what about a simple feature like chatting with friends? The opinion that the console is designed solely for gaming – for the rest, there is a PC and phone today- is irrelevant. In this article, we tell you how to get to messages on PS5, write, delete and view deleted messages, and consider popular faults and methods of their solution.
PS5 Messages: How to Write, Read and Delete
Today gaming consoles are quite versatile devices. Yes, they do not have a browser, and it isn't easy to search for information or connect to Wi-Fi in the hotel after a flight, but this is solved using the built-in authenticator. So, with chat, if there is an opportunity to write messages – why not use it? Also, you can invite friends to play new games together without leaving the console.
To send a message through the PlayStation 5, press the "PS" button and select the section Game Base. Then go to the tab "Messages" and "New Message" items.
Read more about chatting in the Sony manual.
Groups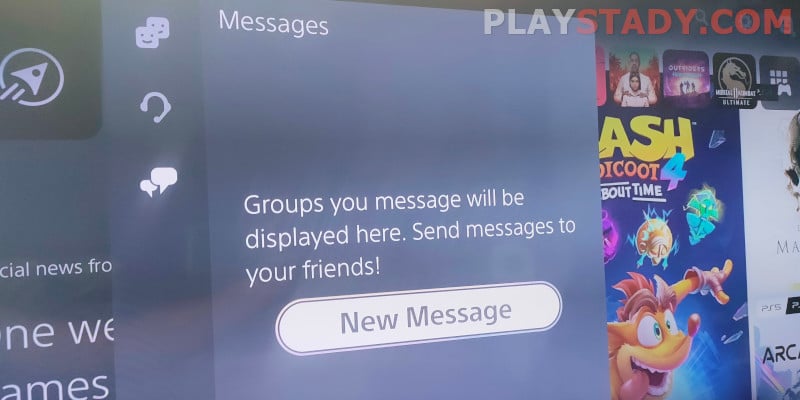 To message your friends simultaneously, you'll need to create a group. Go to Game Base, select "New Message, " select the friends with whom you want to create a group, and confirm with "OK".
If you already have a group with these people, the system will show you, but you can ignore it and click "Create New Group" to make another general chat. You can see all the chats on the tab "Messages". If lost – click on "View all messages," and you will see all your discussions.
Party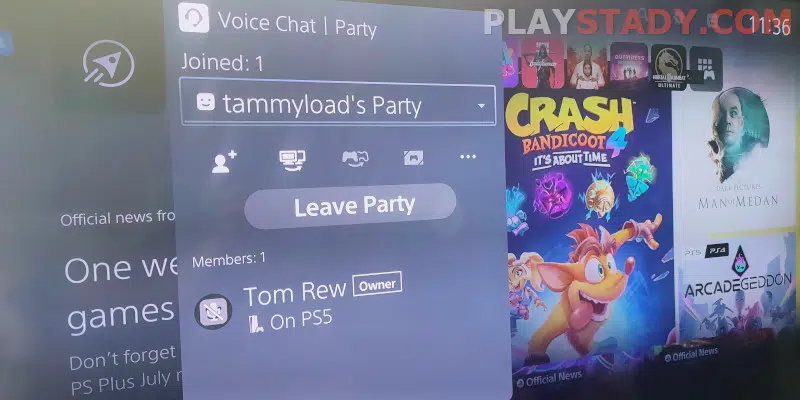 It is unclear for newcomers to the platform, but parties are the usual groups with voice chat on the PlayStation. Parties are divided into two types:
All players, friends of the Party owner, and members can join. You can set a limit – users can join only after approval of the application. If you've created a party, you are considered an owner. Among the possibilities – change of name, parameters, and deleting participants;
Only selected users can join. You can start a Party with both new and existing groups.
To create a new Party chat, go to the Game Base menu, open the "Party" tab, and click "Create". Then, select the options – open or closed, and configure the other items.
Personal Voice Chat
Back in the Game Base and go to the "Friends" tab. Choose a user and click "Party", which will be created for two people. You can add other players if you want.
Voice Chat Card
This is just a chat lobby – here, you can view my messages on the PlayStation. The type of chat is visually displayed. You can switch between them (party and in-game) and manage the settings. For example, add players, share games through the Share Play feature, invite them to the game, adjust the sound, report infractions, and more.
Sending and Receiving PSN Messages on a PC
You can use PS5 emulators and install the application or log in to your account on the official Sony website to send a PSN message from your PC.
If the message "You don't have permission to access" pops up, try logging in using another browser or a verified VPN service. Or wait and contact Sony Technical Support – we recommend calling rather than writing emails for a quick response.
Private Chat as a Free Cloud for Storing Screenshots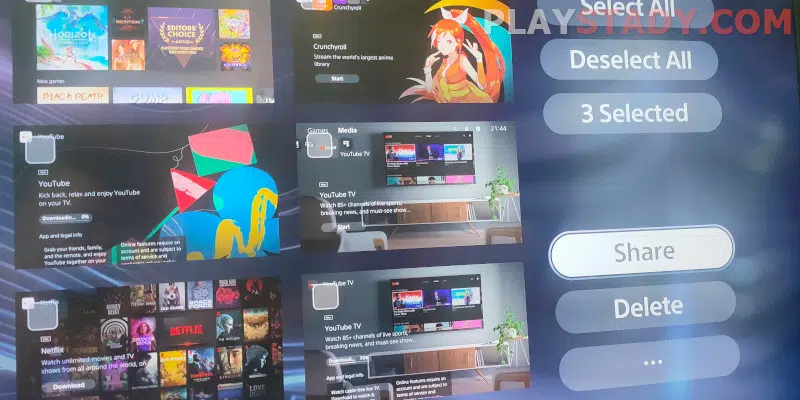 The method is useful for those who want to share screenshots but don't like the Share system. Point by point:
Start the console, go to Game Base, and create a new private Party with friends (you can deal with those who are offline);
Delete friends – you must stay alone;
Fix the Party in Favorites – for quick access at the top of the chat card;
Drop screenshots and links, and write notes and other files you want to keep.
So, you get exactly cloud storage – screenshots are stored without compression, access is limited to your preferences and settings, and you can share them via Telegram, Instagram, Facebook, and other social networks directly from your phone by opening your PS App account on Android or iOS, save to your device. It works on PC, too. Go to your account. The steps are similar.
How to Use Discord Chats on PS5 Console
We'll tell you right away – it's impossible to install the Discord app on the PS5. But there is a workaround that does not require installations, i.e., absolutely safe for the system. Here the chat with yourself from the previous point comes in handy – create another personal conversation, name it appropriately (Discord) and assign it to your favorites. Now write a message in the chat: "www.discord.com". In PS4, you can do this in a chat with a friend – you do not need to send a message. Instead, follow the link in your browser. Unfortunately, on PS5, there is no such function.
Now wait for the pop-up message on the link and, after entering the data, log into your Discord account (select the "Open Discord in Browser" option). That's it – your Discord chats are now available for you to read. Not as convenient as in the app, but you can check received messages.
PS App Doesn't Run
If the PS App messages don't work and you can't log in to your account, there are usually three reasons for this:
Poor Internet speed or ISP blocking. You can try logging in from Wi-Fi or mobile Internet;
You are using a Huawei device – Google Play applications do not work on them, and even if you update an old application, when it was still supported, to the current version, you will not be able to log in. There are ways to bypass the blocking on the Internet but act carefully. Not all of them are safe;
Malfunctions in Sony – PS App servers and messages do not work. It happens quite often. To check the availability of servers in your country, you can here.
Remove Notifications on Your PlayStation 5 Console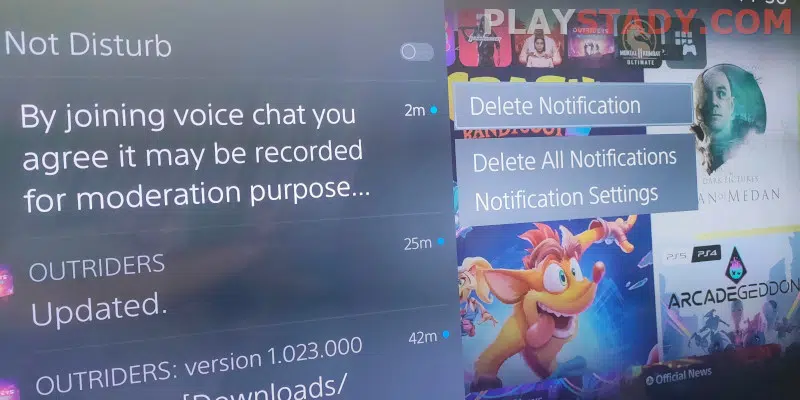 How do I remove system notifications on my PS5? First, press the "Home" button, go to Control Center and look for the "Notifications" tab. Now mark the notification that you no longer need, open the options box and click on "Delete Notification". If you want to clear everything, select "Delete all notifications. If you check multiple messages and click on the square button on the controller, the selected notifications will be deleted.
Have you noticed a lag in the controller between a click and an action on the screen? You can reduce DualSense's impute lag by yourself without having to go to a service center and deactivate the warranty.
Is It Possible to Recover Deleted PS5 Messages?
Unfortunately, you can't. You can restore deleted data and even your PSN account, but not how to view deleted messages. You can also transfer data from PS4 to PS5 without losing your progress and saved data.
What to Do if Messages Don't Reach You
Messages don't come on PS5, a widespread problem from last generation consoles. You send messages, but your friends don't get them. They send them to you, but you only get notifications without being able to view them. This is not a ban of messages but a common glitch and usually goes away after a couple of days. There is no sense in writing to the technical support of Sony – they will write you off or advise you to change your provider, but you can try. If it is really about the Internet, and you noticed that PS5 lags and freezes when you have a good Wi-Fi signal (check the speed of your internet connection on other devices), this can be fixed by yourself but has nothing to do with the problem in the title.
You can try the Reddit method – but it doesn't help everyone – reset the console to factory settings and set an older age – 23+.
Useful Video
This article looked at how to view messages on the PS5, create private, group, and voice chats, and understand the basic setup. As you can see, it is possible to send messages and even use Discord on PlayStation 5, albeit with limitations. We recommend understanding the settings, and then you can communicate with friends, invite them to the games and even create a personal cloud to store screenshots. Yes, not like a smartphone – the features and controls are limited, but everything works, and you can use them without taking a break from the game, right on the PlayStation 5. And how to communicate in PS Now, using your phone or PC – we explained in detail in the setting of PS App – now for correspondence and voice chatting, no boundaries and barriers!