The PlayStation console is used primarily for gaming. New games are regularly released that will appeal to gamers with different interests. But the console is also great for consuming content such as movies, series, cartoons, anime, TV shows, and even music. Today, find out how to watch YouTube TV and other media services on PS5.
Media Services Available on PSN
You can watch video content and enjoy music as well as play games on the PS5. Thus, the PlayStation will brighten up your leisure time and allow you to enjoy your free time. All famous streaming networks, such as Netflix, Disney+, and Amazon Prime Video, officially work on PS. Users are provided with a huge library of content in various genres.
YouTube TV, as the biggest streaming service, is of course available as well. Besides default on-demand videos, you have access to more than 85 live streams of popular international channels. Listening to music is available thanks to Spotify, the largest streaming audio service. Many are wondering how to watch anime on PS5 and whether it is possible. Let's rejoice fans of Asian culture right away: you can view anime and doramas using the Funimation and Crunchyroll applications.
How to Download and Install Media Apps on Your PS5
To start browsing streaming services, you must first install them. The PlayStation 5 makes it as easy as possible to download and install apps:
Turn on the console and go to the main menu.
Here, click on the top tab "Multimedia". It is located near the section "Games".
Applications available for download will appear.
Browse through the suggested options and click "Download". If you do not find the program you want, type its name in the search bar.
Once the service is installed, you can launch and use it immediately.
Please note! Most multimedia applications require a subscription. Make it in advance in your smartphone or computer, or directly in the application on PS5.
We have learned how to download YouTube or another app to your PS5. As you can see, the procedure will take a few minutes. Below we will tell you what services for PS you should pay attention to.
Top 10 Best Movie and Music Services on PS5
For newcomers, it will be useful to know what multimedia services are available on the PlayStation. Therefore, we have selected the top 10 universal options.
YouTube TV + YouTube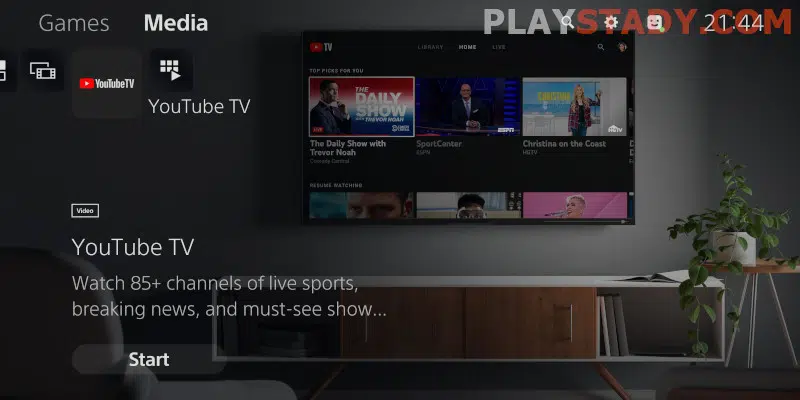 An indispensable application for most users. You can watch a variety of clips, as well as publish your videos. YouTube Premium Subscription for PlayStation 5 allows you to watch videos without ads.
Disney+
Another major streaming service is where you will find movies and cartoons produced by Disney, Marvel, Pixar, Star Wars, and National Geographic. Interesting new releases are released regularly. Disney+ runs on a subscription basis. You can choose either a monthly subscription or a more advantageous annual subscription.
Apple TV+
Also, a streaming site allows you to watch original movies and shows produced by Apple Originals. With Apple TV, you can buy or rent some movies. Premium channel subscriptions are also available.
Netflix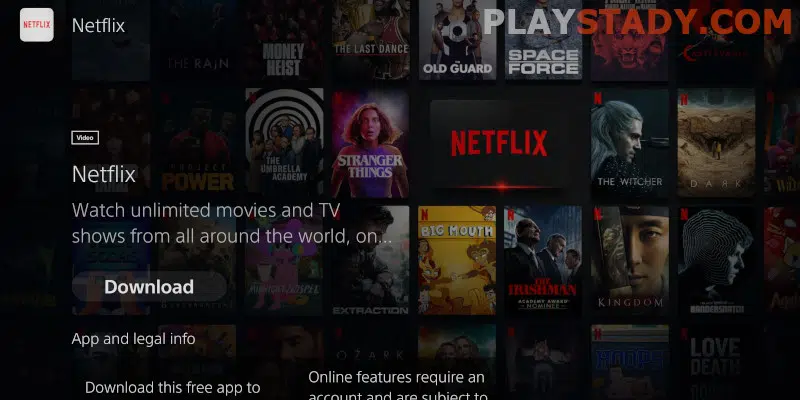 It is arguably one of the most famous streaming sites, which allows people to enjoy TV series, films, and cartoons. Netflix is recognized for favorites such as "Elite," "Very Strange Things," "Queen's Walk," "Sharp Visors," "You," and more. The catalog is constantly updated with new series or movies, so you can always find an interesting option for the evening and brighten up your leisure time. There are three types of subscriptions – basic, standard, and premium. They differ in video quality and the availability of additional features. The price depends on the region.
Amazon Prime Video
By installing this software, you will have access to series, movies, and TV shows produced by Amazon and some other companies. This requires you to connect your Amazon Prime subscription.
Spotify
A world-renowned music streaming service that features tracks from a huge number of artists. The application quickly adjusts to your musical taste and selects appropriate recommendations. In addition, you can create your playlists. Download Spotify on PS5 is recommended for all music lovers and music lovers. Official Sony guide to set up Spotify and adding accounts.
Crunchyroll and Funimation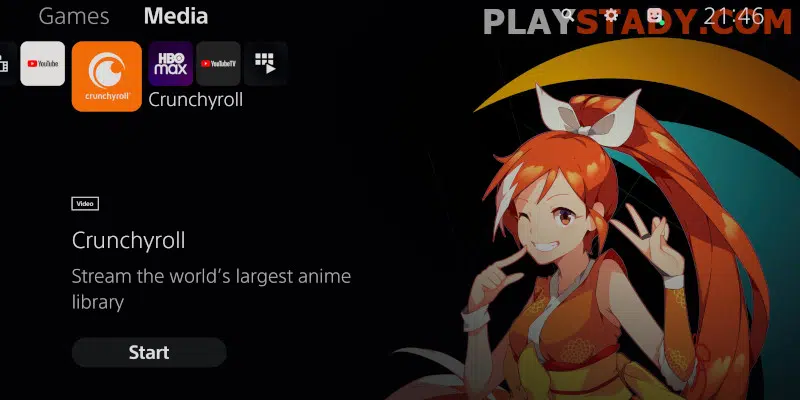 These are two American applications for watching anime and doramas. Cartoons and series on these services receive English dubbing or subtitles so that you can watch them for residents from different countries. The Funimation app can be downloaded on PlayStation without any problems. Are you a devoted fan of anime – then install it on PS5 and Crunchyroll, so you can access huge libraries of cartoons and not miss the release of a novelty.
Twitch
A tool that no gamer can do without, for sure. This video-streaming application broadcasts games (e.g., eSports or single-player gameplay) in real-time.
Hulu
Another streaming site shows movies, shows, and even sports broadcasts of its production (Hulu), Disney+ and ESPN+. For example, you can use Hulu along with Netflix and Apple TV+ or choose one streaming service to save on subscriptions.
Peacock
Most of the content is owned by NBCUniversal. There is an option to watch content for free, but in this case, there will be advertising and a limited amount of multimedia content. If you want access to a huge media library, you must subscribe.
Read also: How to share PS5 games with friends.
Solutions to Popular Bugs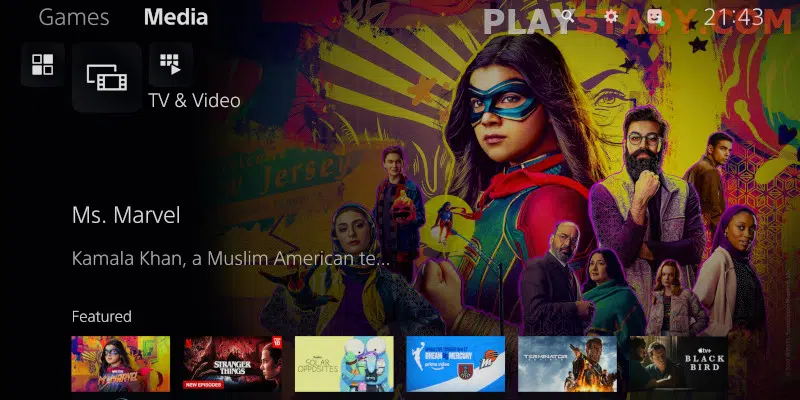 Sometimes users are faced with the occurrence of malfunctions. For example, YouTube or other software does not work on PS5. Usually, the problem is solved quickly and easily. The following steps can help:
Manually update the program. Usually, updates are installed automatically. But if it doesn't, go to the console settings, open the "Applications" section, select the desired software and click "Update".
Perform a rollback to the previous version. The malfunction occurred after the update – it means that the assembly works with an error, and you need to go back to an earlier version. You can do this by installing an older build. 3.
Update software. In some cases, you may need to update your PlayStation itself. You can also do this in the System Preferences menu.
Clear cache. Like Android apps, PS also has a cache that you should clean periodically. A large amount of unnecessary data can cause problems with the tool's functioning. So go to "Applications", select the specific program and click "Delete cached data".
Check Internet connection. If there is no internet or a bad signal, the application will not work or constantly hang up. So make sure your internet speed is sufficient for the correct functioning of the program. This article may help on why PS5 lags even with a good internet connection.
Reinstall software. If the above recommendations do not help, you can reinstall the application. Then, uninstall it and download it again.
You may be interested in: PS5 shuts down by itself while playing games.
FAQ
Can I Watch Movies on My PS5 via USB?
Yes, it is available on the PS5, as well as on the previous generation PlayStation. The device supports reading video files of popular formats: MP4, MP3, and MKV. To begin with, you need to put video files into separate folders. Next, connect the flash drive to the console and go from the PlayStation 5 home page to the "Media Gallery" section. Next, click "USB" and browse through the folders that appear. Finally, click on the desired file to begin playback.
Do I Need to Access PlayStation Network to Download Media Services?
No, you do not need to. Just go to the Media tab on the Home screen.
How Do I Listen to Spotify While Playing Music on My PS5?
It's very simple. Start by installing the app, logging in, and adding your favorite tracks to your playlist. Next, start the game and go to Control Center (one press of the PS button on the remote). We need the music item. Go into it and play any song or tune. A card with music playing will automatically appear. Press the PS key again to return to the game. You can control playback from the card you created.
Video Guide
Now you know how to use the multimedia apps on the PlayStation 5. The principle is the same as on conventional "smart" TVs. You need to download the service you like, run it, and authorize and pay for the subscription, if necessary. We hope that the article was useful.