The PlayStation ecosystem is constantly expanding and attracting more and more users. Regularly, new interesting games and other products come out that you want to try. But, of course, content is paid for both PS5 and PS4 consoles. Therefore, for newcomers who wish to get acquainted with the "universe" of PlayStation, you need to know how to add money to PS5 wallet.
What Is a PS5 Wallet and Why Do You Need One?
A wallet (wallet) is a virtual tool in the Playstation ecosystem needed to store funds. Every PlayStation Network account receives one wallet by default. It is used to pay for purchases on the PlayStation Store service.
Thanks to the wallet, you can buy a variety of products presented in the brand's online store. First of all, these are games of different genres and trends. Your wallet also helps you pay for your PlayStation Plus subscription with deep discounts on games and extended play trials.
Your wallet lets you pay for a digital product or service quickly and conveniently. Adding money to your PlayStation Wallet is easy – you must choose a payment method and specify the amount. We'll talk about this in the next paragraph.
Ways to Top Up Your Wallet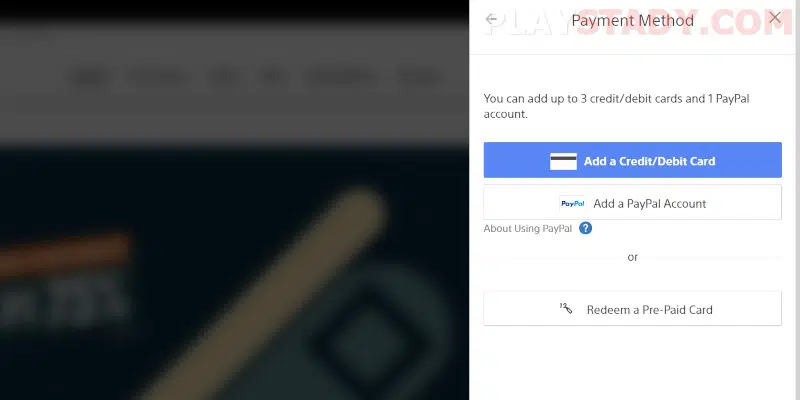 You can recharge your wallet using one of the working payment methods. To do this, you need to link a card or payment system to your account in advance. There are also special recharge vouchers for adding funds to your wallet. PSN supports these companies:
Visa;
Mastercard;
JCB;
PayPal.
Adding funds to your wallet balance can be done directly in the console settings or through your computer using the official website in your browser. You can also top your PSN wallet from your phone in the official PlayStation App. The software is available on Android smartphones and iPhones. But this method has some limitations (for example, you can not recharge your wallet through PayPal, but only with cards). So it is recommended to use a console or an Internet browser for the top-up.
You may be interested in: Why Is My PS5 Lagging With Good Internet.
How to Add a Payment Method to Playstation Store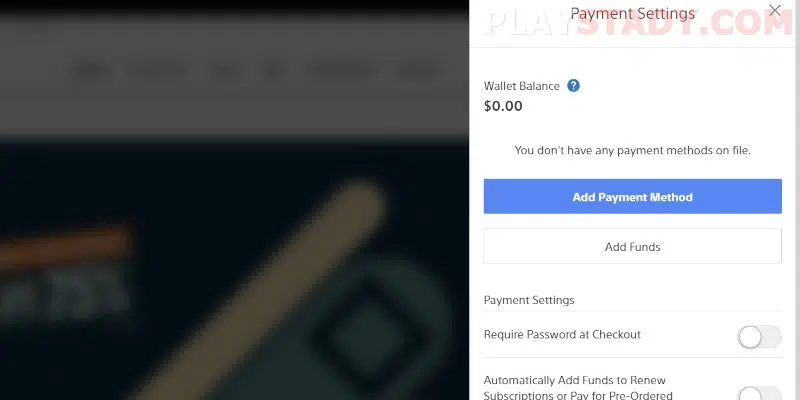 Theoretical introductions are taken care of. Now let's get down to the payment operations. First, you need to add a payment method to your PS account. The procedure will only take a few minutes.
Option 1: Using a Browser
We will need access to a computer and an internet connection.
Go to the official PlayStation website.
At the top of the page, click on "Login".
Enter your ID.
Next, click "Manage Payment" and select "Add Method of Payment".
Specify the payment details and save them.
Option 2: Using PS5 Console.
Also a fast and convenient option.
Turn the device on and connect it to the screen. Make sure you have access to the internet.
In the settings, click Users and Accounts.
Open the Account section. This is where the "Payments and Subscriptions" tab – "Payment Methods" is needed.
Specify the payment information by clicking on the appropriate lines. Then, check the entered data and save it.
Read also: How to Reset PS5 to Factory Settings.
How to Add Funds to Your PS5 Wallet
You can put money into your wallet in two main ways: through the console and the Internet browser. These are official methods. Just a few simple actions – and your wallet will be replenished.
Choice 1: Browser
Open the website and click "Login".
Specify your network ID. Then go to "Manage payments". Finally, click on "Add funds".
Select the amount and payment option.
Choice 2: Console
You can top up your wallet directly through the console.
Turn on PS, make the necessary connections, and go to Settings.
Choose "Users and accounts".
Click on "Payments and Subscriptions". Then click on "Add Funds".
Enter the rest of the required information.
Does It Differ From PS4?
On the previous PS4 model, the procedure is almost the same. Likewise, in the browser, the actions are the same. However, on the console itself, the sequence of operations and the names of sections are slightly different:
After turning on and connecting the device to the big screen, go to "Account Management".
Under "Account data," we pay attention to the "Wallet" tab. Then, press "Add funds".
Specify the payment option and the amount we want to add money to the wallet.
Is It Possible to Add Money to a Child PSN Account?
Many people wonder how to put funds into the PS5 wallet for a children's account. Unfortunately, this is not possible. You can only pay for purchases using the wallet from the family access. In the child account itself, the spending limit is initially zero. But you can increase the limit if your child plans to make any purchases from their account.
Increasing a child's account limit is only available to family access organizers or designated parents/guardians. However, the procedure can be done in a few clicks using a browser:
First, go to the official PS page and log in.
Click on the "Family Management" section.
Next, select the children's account in this item and click "Change".
Set the desired monthly spending limit.
How to Redeem a Voucher Code in PS5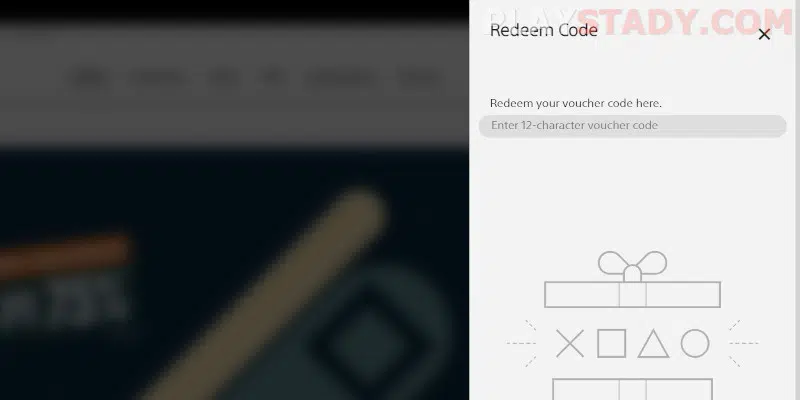 Vouchers are quite common among users and are very popular. To top up your wallet, buy a digital product, or access a subscription, you need to redeem the voucher code. You can do this in the browser as follows:
Open the PlayStation Store and open your account settings.
Choose the item "Redeem codes.
Enter the code and click "Redeem. Done.
After this, a service/good will be paid, or funds will be added to the wallet.
This operation is also carried out in the console. To do this:
Click on "Settings" – "Users and accounts".
Then select "Payments and subscriptions" – "Redemption of codes".
After entering the code, click "Redeem".
Troubleshooting Wallet Top-Up Errors
Sometimes errors occur when you add funds to your PlayStation Wallet or specify a new payment method. Problems are different, but the methods for resolving them are almost the same. What you need to do to resolve these issues:
Check if "Online Payments" is turned on in your credit or debit card settings. To do this, go to the website of the bank that services your card. Or install an app and use it to enable online payments.
Make sure that the payment information is entered correctly and matches the data specified in the bank. You can check your payment information in the "Manage payments" section.
If the error "Your card could not be updated" occurs, wait and do not perform any payment transactions or card actions for 24 hours. If you make even one move, your card will be blocked for a full day.
Find out if your card type is supported on the PlayStation Network. As a reminder, the main supported cards are Visa and MasterCard. If a different company issued the card, there might be issues with functionality.
Check if the region of the payment card matches the region set in the PS settings. The same country must be specified. Otherwise, the service may generate an error.
Useful: How to clean all dust from the console.
FAQ
How Do I Use My Wallet Money on PlayStation 5?
When you buy a digital product or service from the PlayStation Store, you have to choose to pay with your wallet.
Can I Purchase Products if My Wallet Is Empty?
Using your wallet is optional. You can use your card or payment system to pay. Your wallet is an additional auxiliary feature for making payments.
How Do I View My PS5 Wallet Balance and Transactions?
You can view the history of transactions through the browser and in the console's settings. In the first option, go to the official site, select "Account Management," and click on "Transaction History". Then specify the time for which you want to view the payment transfers. You just need to click on it to find out detailed information about a particular transaction.
Video Guide
Now you know how to top up your PS5 wallet and add various payment methods. We hope the instructions were helpful.